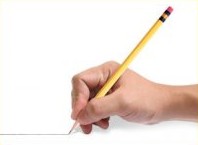 Most crafters sell items to friends and family before they ever think about selling to strangers. Then they might sell to strangers who have been persuaded by friends and family to buy. Both types of sales rely upon word of mouth referrals and the ability of the buyer to actually handle the handcrafted item before buying.
When selling online, a major component of the early sales is completely gone – touch.
How cuddly is that scarf? How heavy is that pendant? How big is that painting?
All easily answered in person – not so easy via pictures. That's where the ability to write good product descriptions comes in to play.
Writing Product Descriptions
Now that you are selling crafts online, you have to craft product descriptions that can overcome the fact that potential customers can not touch your items.
Consider the sad little product description one crafter had on their site…
White dove on chain.
Honestly, that is what they had. I promise I'm not making it up. The picture did not provide much help beyond that yep, that looks like a white dove on a chain.
The person who owned that site was asking why they weren't getting very many sales. The price on this item was fairly low and the picture looked like it was one of those plastic doves people use to decorate wedding favors and the chain looked quite cheap.
While there are millions of product descriptions on the web that are done this poorly, let's use this one as an example to build upon.
Let's write a new product description – but first, let's consider what people want to know when buying a necklace online or off.
1. What's the charm made out of?
2. Did you make the charm?
3. How long is the chain?
4. What is the metal content of the chain?
.
.
.
Beginning to get the idea?
Now, let's begin to write a new product description…
Hand-blown white glass dove with a gold-filled bail. The 18 inch chain is gold filled with a lobster claw clasp.
Getting better – now we've answered the basic questions.
The next step to writing better product descriptions is adding a bit a salesmanship and marketing…
Delicate, hand-blown, white glass dove pendent. I create each one individually so each is unique and one of a kind. The dove is hung on an 18 inch gold-filled chain with a lobster claw clasp. The dove is securely attached with a gold-filled bail. These necklaces are one of my top sellers and make the perfect Christmas gift.
Now the potential customer knows exactly what they are buying even though they can't touch the item.
Avoid Saying Too Much in Your Product Descriptions
Some crafters are so used to communicating with other crafters, that they forget who their target customers are.
Consider the following product description…
Bracelet constructed on 24 guage wire. Each loop is attached with a 24kt jump ring and includes 5 charlottes, 2 seed beads, and one Swarovski crystal. I made this bracelet with some of my left-over beads from
some of my other projects.
While this isn't exactly what someone had listed as their description – it is pretty darn close.
Did something in the description jump out at you? Think like a buyer and not a crafter. What makes good business sense, does not make for good marketing. Just what a potential customer wants to hear about that $65 bracelet they are buying on the Internet – "this bracelet was made with left-over beads". Left over from what? What's wrong with them? Are they cracked or something?
Now, look at the product description a bit closer – again, think like someone who does not craft. Charlottes? What the heck are those? I guess they are different than seed beads? 24 gauge wire? Is that good? How big is that?
Let's look at a way to market and sell this bracelet with words…
Accented with purple Swarovski crystals, this 24kt gold bracelet is the perfect gift for that special someone or a treat for yourself. Each crystal is surrounded by several smaller beads to add even more color. The bracelet is 7 1/2 inches long and each of the 8 dangles is 1/2 inch long. This classically-inspired bracelet is being offered at $65 and comes with a matching gift box.
That new product description has done two things – described the item and invited the customer to buy it.
Writing Product Descriptions that Include an Invitation to Buy
That is perhaps the biggest mistake crafters make with their online craft businesses. They fail to convey the "buy me I'm wonderful and you just can't live without me message."
The key here is to think more of Vanna White – tadah, isn't this great; rather than Joe, the used car salesman – c'mon you know you want this, if you don't buy this little gem today it won't be here tomorrow.
The best descriptions blend the two. Here are some typical features that can be used to turn your product description into a sales pitch without actually making a pitch:
One of a Kind
If the item is one of a kind – say so. With handmade items, people like the idea of owning something original and unique.
I Made it All!
If you are selling a necklace that has a featured bead or charm that you made – say so. There are multitudes of crafters who can take a featured bead or charm and hang it on a chain. Many fewer can produce hand-blown, one of a kind, millifiore style pendents. If you made the components – say so!
It's an Antique
Use antique buttons on that sweater? That means it is unlikely anyone else will have the same thing. It means even if someone else makes the same exact sweater – only yours will have those interesting silver eagle buttons.
Discontinued
This fabric has been discontinued. You are telling the potential customer – act now there are limited quantities without actually saying so.
Selling Crafts Online
Selling crafts online is allowing many crafters to sell items to a much wider audience than they could ever hope to even if they spent every weekend at a different craft show. There are some additional things that have to be considered; but with a little thought, they can be used to your advantage.
Work on your product descriptions and you should see improved sales, less emails with questions about your products, and establish that you are a professional selling a quality retail item.
Now, go sharpen your pencils.

A few suggestions for further reading...