Blog About Crafts has always been one of those projects that I do in between writing clients. What that unfortunately means is that sometimes, despite my best intentions, my regularly scheduled posts here have to be preempted. Yesterday was one of those the client comes first days. Hopefully, everyone won't mind too much when you see what I have in store this week for Featured Artist Friday.
This week has been different. Not a bad week, landing a new client is almost always a good week. It's just been one of those weeks were the creative juices have needed a bit more nudging to get going. I've been working on a paper box project that I hope to add to The Crafty Tipster and it has been frustratingly elusive to get the proportions and formulas just right.
Inspiration for my writing and my crafting can often come from the most unlikely of sources. A single word spoken on an old A*Team episode on Hulu can lead to the theme for an entire article. When it comes to handicrafts, Pinterest has become for many a first stop when looking for ideas and inspiration. And, if you haven't seen my post about it's alter ego in China, you might want to check out my review of Duitang.
Both Pinterest and Duitang are full of great projects and inspiration that can safely be filed under 'ideas to try'. But, then there's those projects that may use a medium we don't generally use ourselves or are just the sort of thing that makes you question if someone actually made such a wonderful thing. I thought it might be fun to dedicate this week's Featured Artist Friday to a few projects that I found while exploring Pinterest today.
The medium is one that I don't work in and one that is sadly under-represented on Crafty Tips – paper cutting. There's only one paper cutting artist listed on Crafty Tips and his listing is filed under the Wedding category because he specializes in papercut ketubahs.
The folks I'm getting ready to share with you are not participating in Crafty Tips, yet, but have been found by pinners on Pinterest and their work is truly amazing.
In case you haven't found me yet on Pinterest, I'm going by Blog About Crafts over there. Sign up as one of my followers and I'll return the favor. Just drop me a note on the comments for this post to let me know.
---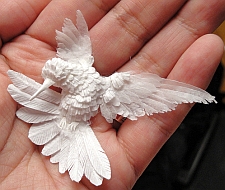 This beautiful cut paper and paper sculpted hummingbird was included on several pin boards. Sadly, several had linked to the Google Images search page, which now links to the image search function and not the original photo.
It took a little hunting, but I found the creator's Flicker page where he added this photo to his photostream.
He also has a website, Papernoodle and while it includes a gallery of much of his work, it doesn't include this lovely little fellow or his many friends that can also be found in the artist's photostream.
He does have an Etsy shop where he offers giclee print versions of his work.
---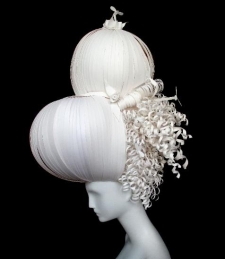 Nikki Nye and Amy Flurry are the talented ladies behind Paper Cut Project.
They work closely with the fashion world providing paper sculptures for window installations, fashion runways, catalogs and advertising campaigns.
Several people had pinned pictures that are from their collection entitled The Bay Holiday Windows. Their pieces are typically meant to be worn and this collection was no exception.
This group included 8 different wig-like creations that were constructed with white paper and placed on white mannequins.
Other examples of their work included animal masks, hats, corsages and a variety of wigs. Their work must truly be showstopping when seen in person.
---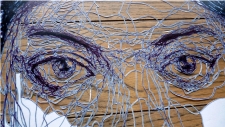 This is the work of another talented artist that someone found through their Flickr photostream.
This paper cut shows a work in progress from 2009 where you can really see how the artist takes a portrait done in squiggly lines and turns it into a magnificent paper cutting.
The artist does have a Facebook page but it appears to be restricted to Facebook participants or is accessible by invitation only.
---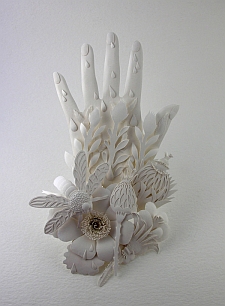 Elsa Mora is a talented paper cutting artist living in California.
It doesn't take much time when visiting her blog or Etsy shop to understand that she absolutely loves what she is doing.
She is an independent artist who has her own solo show each year and has been a guest lecturer at a number of art institutes.
Her pieces, like this one entitled The Hand are constructed using both 2-dimensional and 3-dimensional paper cutting techniques.
Her Etsy shop, Elsita contains a number of pieces of her original art, prints of her work and some papercut patterns that will allow the rest of us to dabble in what she does oh so well.
Her blog is full of wonderful examples of her work and her About Me page is full of inspiration and joy. She is a great story teller and her humor shines through in both her writing and her artwork.
---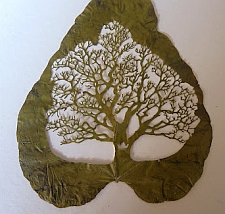 As if cutting teeny little designs into paper wouldn't be challenging or artistic enough, Durán takes paper cutting to a new level – he makes art by cutting pictures into dried leaves.
His site showcases some of his work and is where you can contact him to purchase what you see or request a custom piece.
Each piece is truly a one of a kind work.
Durán harvests his own leaves, washes, dries, presses and then finally cuts his designs into them. He is a self-taught artist living in Guadalajara, Mexico. His site is written in Spanish with an English translation.
---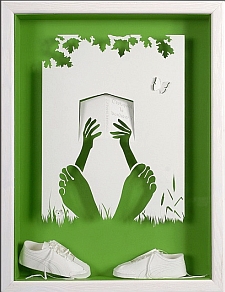 This artist's site is not one that would normally be found on Crafty Tips. Sadly, it is only offered in French. But, the French word Galerie is easily recognized by those of us who speak only English. It provides a gateway to a large collection of art that combines the humor and skill of this highly talented paper cutting artist.
The piece I've included here is one of my favorites. The pair of sneakers exemplify how skilled the artist is in working with paper but the overall piece shows a keen sense of humor that transcends language. Of course knowing that the book in the piece is entitled What is Happiness might make it more clear why Mar calls this piece Question – Response.
Mar has been working with paper his entire professional career. But, paper was as he puts it only used in a supporting role in his earlier endeavors. As a photographer and freelance journalist paper was simply the vehicle for his real art to be displayed. Now, paper takes a starring role in his work as he cuts, folds and pastes white paper to create unique works of art.

A few suggestions for further reading...