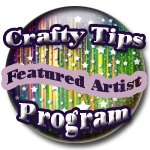 Crafters are always on the lookout for free or low-cost advertising. This week marks the first of what will hopefully be a long-term promotion with Crafty Tips and Blog About Crafts. Crafters and artists participating in Crafty Tips can submit their tutorials and handmade items posted online for sale to be showcased in Tutorial Thursday or Fabulous Fridays.
Participation is totally free!
Be sure and check out Crafty Tips Featured Artist Program to see all the details and learn how easy it is to participate.
I can't wait to see everyone's fabulous creations!

A few suggestions for further reading...