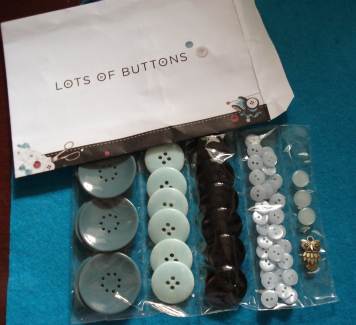 A few posts ago (Button Overload), I mentioned that I had been offered the opportunity to order a number of buttons in exchange for writing a craft tutorial using them.
I finally figured out what to order and they arrived over the weekend. The way they were packaged is so lovely that I thought I would share with everyone. The fact that the buttons all coordinate so prettily with each other really made my package look almost too pretty to open.
I've gotta say, that I was impressed with the customer service and the packaging. One of the buttons I had originally ordered was out of stock. Rather than sending my order and telling me they were back-ordered or no longer available, I received an email BEFORE my order was shipped. Dang it, I so hate when companies send out partial orders without letting you know first. These folks not only sent a letter, they sent a photo of a suggested replacement.
This post was not part of our agreement and has nothing to do with the tutorial I plan on writing. I just wanted to share my excitement over finally getting my buttons (my fault, not theirs, once the substitution was agreed to, my order came from Hong Kong within 5 days). I love how they are packaged, so pretty and a great way to keep them from getting scratched or damaged. I also wanted to share how one company (Lots of Buttons) has got it together when it comes to customer service.

A few suggestions for further reading...