Anyone who's visited Blog About Crafts before has probably seen one of my articles on crafting the right product descriptions. Just in case you've missed them, here's the list so far…
But, wait, before you go off and check all those great posts, take a moment to see how they did it back in 1854. The product appears to be a shawl…
Here's a quick look at the advertisement…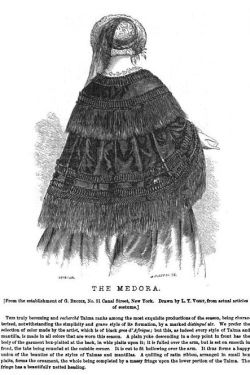 As you can see, not only do they show a lovely drawing of the garment, they give the piece a name – The Medora. The fine print under the name includes, "From the establishment of G. Brodie, No. 51 Canal Street, New York. Drawn by L.T. Voigt, from actual articles of costume."
Before we go any further, doesn't their use of the phrase "from the establishment of" in their product description tell us a great deal? It implies that there's a physical shop on Canal Street and it's not just a mailing address. The use of the word "establishment" rather than "shop" or "business" also implies that Brodie has a shop of distinction rather than just another storefront. While there's no way of knowing if any of those things was true, from the very first sentence a tone was set about the vendor and his wares.
The remainder of the product description for this shawl follows but let me share with you some terms used in the description that I was not familiar with. If they are well known to you, please just skip to the description.
| | |
| --- | --- |
| recherché | A french word for Exquisite; lavishly elegant and refined. |
| Talma | A kind of large cape, or short, full cloak, forming part of the dress of ladies. |
| distingué | Having an air of distinction. |
| gros D'Afrique | Plain woven, all-silk dress goods. The warp consist of single threads of ecru silk and double or triple strands of boiled silk. It is double faced with a velvety, cross ribbed effect. |
If you are wondering where I found some of these definitions, check out this great vintage book available from Google Books – Dictionary of Textiles.
Now on to the rest of the advertisement…
This truly becoming and recherché Talma ranks among the most exquisite productions of the season, being characterized, notwithstanding the simplicity and grave style of its formation, by a marked distingué air. We prefer the selection of color made by the artist, which is of black gros D'Afrique; but this, as indeed every style of Talma and mantilla, is made in all colors that are worn this season. A plain yoke descending in a deep point in front has the body of the garment box-plaited at the back, in wide plaits upon it; it is fulled over the arm, but is set on smooth in the front, the tabs being rounded at the outside corner. It is cut to fit hollowing over the arm. It thus forms a happy union of the beauties of the styles of the Talmas and mantillas. A quilling of satin ribbon, arranged in small box plaits, forms the ornament, the whole bing completed by a massy fringe upon the lower portion of the Talma. The fringe has a beautifully netted heading.
Keep in mind when this was published. In 1854, France was still the home of all things fashion. To include the French phrases imparts an air of sophistication and modern-ness. Tried today, it would probably fall flat unless it was something French in origin or design.
The main thing that strikes me is there is no long description of the supplies used or the techniques employed to construct the garment. The description, while it does include some salesmanship, sticks to describing the overall appearance of the product and let's the consumer know that it comes in colors other than black.
The mistakes…"made in all colors that are worn this season" – I would guess, much like today's fashion what's in style in New York City may not be the rage in Houston or LA – particularly when it comes to cold-weather outer garments. The language used is a bit fancy to my eye, "It is cut to fit hollowing over the arm." Who knows? Maybe everyone talked about the arm openings in shawls that way or it may simply be more fancy language to sell a high priced garment.
My main point in sharing this advertisement is to get today's designers thinking about what messages are hidden within their product descriptions and how distinguished words, when used carefully, can make a simple product like a shawl, sound oh-so-sophisticated and fashionable.
What do you think? What words do you use when trying to add an air of sophistication to a garment you are proud of?

A few suggestions for further reading...