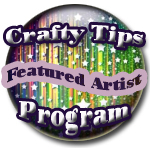 So much creativity and talent on display this week. Another week has come and gone and seeing how many wonderful things that everyone has been busy making makes me wonder if I have been as productive as I should be. I guess the answer might be yes since here it is Friday and I'm actually getting my Featured Artist Friday post done before the sun goes down. (Well, yeah, it never really came up today, but that's beside the point.)
Beads, jewelry, quilts, purses, clocks, candles, pens, miniatures and felted eggs are all represented this week. So much handmade goodness. So many talented folks. Too much to talk about. So, I'll just show you.
| | | |
| --- | --- | --- |
| Elizabeth Chandler Designs Slouch Tote bag pattern or custom made bag. | Laser Etched 1980's 8 bit Video Game Arcade Clock | Lady Slipper Orchid Lampwork Focal Bead |
| Floral Sterling Silver Ring | Crochet Viser Beanie Hat with Flower | Watercolor Owl Painting and Pendent Necklace |
| Amazon Ocean Blue Sterling Silver Ring | Purple Wire Coiled Earrings | Bird of Paradise Scented Mason Jar Soy Candle |
| Oak Wood Rustic Slimline Pen with Copper Trim | Red Tiger Eye Tie Tack Pin | Berry Bewitching Brew Paraffin Drip Wax Pillar Candle |
| Dollhouse Miniature Food Noodle Bowls | Made to Order Rag Quilt | Needle felted egg, decorated with blooming apple tree branch |
In case anyone's paying attention, yes, I'm trying out different ideas on how to present everyone's wonderful creative works. In light of the many issues stemming from folks Pinning unwatermarked images, I've begun watermarking some images I've included as part of the Featured Artist Program. Last week, I added watermarks for the artists directly onto their work on the Craft Tutorial Thursday post. Today I am framing them. I like the frames better. What does everyone else think?

A few suggestions for further reading...